ARTISTS - PLEASE CLICK HERE TO DOWNLOAD A COPY OF THE 2020 PROSPECTUS for this EVENT!
ALSO, PLEASE CLICK HERE TO VIEW A COPY OF THE REGISTRATION SHEET FOR THIS EVENT!
Artists are invited to participate in Plymouth Arts Center's Annual Paint the Towns in Fall Color, En Plein Air (outdoor painting) competition. The event is coordinated again this year by artist Dan Rizzi of Plymouth. The painting days are Thursday, October 8 through Thursday, October 15th. Cash prizes in the amount of $3000 will be awarded. The Best of Show Award is $1000; 2nd Place, $750; Third Place $350; along with a number of other cash and merit awards. There will be at least two Artist's Socials during the event. One is scheduled on Wednesday, Oct 14th, 5:30-7pm at The Fig and The Pheasant (formerly 52 Stafford,) and visit the PAC website under Visual Arts/Plein Air Event to locate the Artist's Calendar. Dan is pleased to announce expanded boundaries in the Plymouth area and in the surrounding towns of Greenbush and Glenbeulah. The first 45 artists to register for the event will be accepted. A public reception and silent auction will be held Fri., Oct. 16, 6-9pm.
Something New "A Special Paint Day" On Saturday, Oct. 10th at the PAC, bouquets of flowers (and possibly other items) will be provided and set up as still life for artists to paint En Plein Air. The public will be invited to watch Artists create the works and SALES of the paintings on that day may be allowed. More information to follow on this aspect of the event.
Participation fees for Paint the Towns in Fall Color are $45per person if registration is postmarked by Sept. 25, 2020 which entitles artist to participate in the full event and all areas within the painting boundaries. The registration fee after Sept.25 is $50. Pre-registration by September 25th is highly encouraged by visiting the PAC website or the PAC office, 520 E. Mill Street, Downtown Plymouth. Artists may also register mornings of the event. Maps of the painting boundaries will be distributed at check in. For complete details of the event, the artist prospectus and registration form, please visit the Plymouth Arts Center's website: www.plymoutharts.org or Facebook Page, call (920) 892-8409. All proceeds of this event benefit the Plymouth Arts Center, a charitable 501c3 non-profit organization.
RECAP:
Paint Out: Thurs., October 8 to Thurs., October 15th. Artists may participate in any day or all eight days.
Registration Fee for Paint Out: $45 Per Person before Sept.25 ($50 after Sept. 25.) Visit the PAC, 520 East Mill Street, Downtown Plymouth, or the website: www.plymoutharts.org or Facebook Page for a registration form and return it along with your $45/$50 check made payable to PAC and mail to: Plymouth Arts Center, P.O. Box 253, Plymouth, WI 53073
Artist is to provide the painting surface, canvas, paper, or board, for stamping at time of check-in for each piece they plan on entering in the competition and silent auction. Packets with maps of possible painting locations and nametags will be given at this time. Visit the PAC for the prospectus.
Public Reception Awards Ceremony/Opening Reception and Silent Auction, Friday, October 16th from 6:00 – 9:00 pm. Admission to the reception is free. Live Music, Cash Bar.
After the Oct. 16 reception, Artists are encouraged to leave any unsold works on display at the PAC through Oct 25th. During this extended sale period the paintings will be sold at the "Buy it Now" retail price.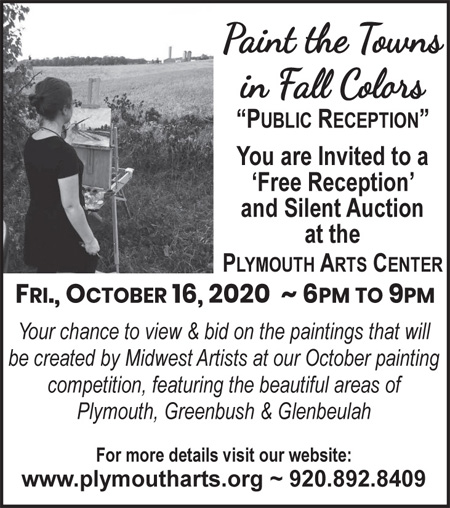 The public is invited to the Plymouth Arts Center on Friday, October 16, 2020 from 6pm to 9pm to see the paintings created at the Paint the Towns in Fall Color en Plein Air event. This is a free admission reception with live music and a cash bar. It is a great opportunity to meet the participating artists and to bid on a favorite piece at the Silent Auction until 9:00pm. For more information please visit the Plymouth Arts Center's website: www.plymoutharts.org or call (920) 892-8409.